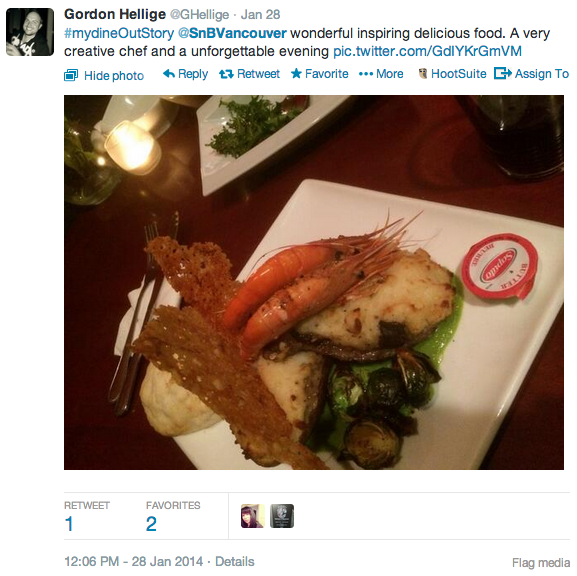 On February 2nd we wrapped up 17 days of Dine-out Vancouver at Salmon 'n Bannock. It was one of the more intense experiences I have had as a chef. We did two seatings per evening and we were booked out with a waiting list most nights. This was a great opportunity for us to introduce authentic first nations cuisine to the community and to many visitors here in Vancouver from other countries.
Some of our guests took their time to write some very detailed reviews on their blogs about their experience. Here are a couple of the most recent reviews I came across:
Reb The Iron Chef did a thorough overview of their experience during Dine-out. There are also some great photos of our restaurant and many of the original First Nations art work that we display. Here's the post:  Table: Salmon n Bannock (Dine Out 2014)
Vanessa Choot (@ModernMixVan) chose the Elk Pie and her friend had the Bannock Crusted Salmon. I got to meet both of them and they were enthusiastic and gracious guests. Here's Vanessa's post: Contemporary Aboriginal Dining at Salmon n' Bannock
 I would like to thank everyone that took the time to book a Dine Out experience with us at SnB, the excitement around my first Dine Out Vancouver Festival as a Head Chef can be accredited to your support.  A special thank you to the guests who contributed their thoughts and appreciation for my very first menu.  The encouragement allows me to further my creativity and stretch my boundaries in the kitchen.  I look forward to bringing you new and fresh ideas to the table, and will always welcome every kind of feedback!
Many Blessings,
Shawna Davis
@Shawnaleedavis on Twitter
@Hayatsgan on Instagram