One heart – One beat – One drum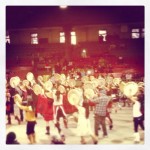 It was early spring,  and after suffering in silence for well over a decade with a rare heart/artery disease, I was forced to come to terms with it.  Boy, did I ever…
Everything that cloudy morning felt easy, light.  I was like a baby down feather drifting from the eagle's nest, bringing luck to whomever it passed.  That day was mine, and I was so aware.  I walked into the Naturopath's office, patient, having no idea what to expect.  It was calm, it was natural, it was a place of healing.   When I was directed to Dr. A's office I couldn't have dreamed of a better outcome, because there in front of me was the most incredible button blanket I had ever laid eyes on.  It was like nothing i'd ever seen before and it was there eagerly waiting for me, an incredible white 'Tree of Life' that said to me "Welcome old friend, what took you so long?"    Dr. A was a tall beautiful strawberry blonde,  her energy was on point, she listened with an experienced ear and she knew exactly what I needed.  After countless doctors, and tests, and pokes and prods, and scans, and specialists, and pain..the emotional, spiritual and physical pain that I endured for a third of my life, I cried tears of relief.  Hope and Faith are still by my side.  As her pen scurried across the paper I noticed her beautiful wedding band, a native designed Hummingbird and I anxiously waited to ask her about her ring and That Blanket.  She stopped and said she had been admiring my Eagle bracelet…perfect.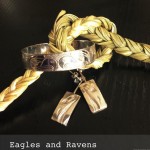 Her story was beautiful just like her and the life she brought to it seemed a clear reflection of that awe inspiring Tree.  We left the office and where there was once a cold dark chill was now a warm burning flame.
After a beautiful lunch near the river, we arrived at our final destination for the day.  Shane had set up a meeting for me and two of his friends who were energy healers – Harry and Kathy.  I really didn't know what to expect but my heart and mind were still so free and willing to accept any healing energy from every direction, and that is exactly what I received.  After they graciously welcomed me into their home I gave them both big hugs(for those of you who know me and for those who don't, i'm a big hugger and if they're awkward? Even better:)  These were not awkward hugs at all, they were just more warmth and comfort filling my day.  I was cautiously excited.  After a beautifully prepared meal, and lovely conversation, it was time to do 'the work'.  We stepped out onto the stoop and we smudged with sage and tobacco, it was the most soothing aroma.  My spirit was gently nudged, like waking a baby with a kiss.  Harry was telling me about the Hummingbirds that just moved into their backyard and how cute the little baby Hummingbirds were.  Ahh, the Hummingbirds, of course.
We then went into their beautiful den, it was filled with books and artwork and buddhas and crystals and all things that connected.  I was slightly nervous but I felt safe.  I was then handed a drum, a wolf drum.  Wow.  I explained that Gitxsan and Nisga'a women do not traditionally drum, that is for the men to do and the women and children sing and dance.  I've always wanted to drum! There were three other people in the room with me: Shane – he was given a buffalo drum, Harry – he had a wolf drum as well, and Kathy – she held a deer drum.  Kathy and harry began to show me their amazing collection of gifts, one being a wolf's paw which was made into a medicine pouch…I immediately felt that the paw was to stay with me, so I placed it by my side.  Then Harry said in a very assertive voice "Drum"….what happened next was something that I can try my very best to put into words…so I will try…
The drums started.  Mine was shy, mine was hesitant and almost a little confused.  I heard the Buffalo, he was strong, he was jumping, he was playful.  I heard the other Wolf, he was holding steady, he was focused.  I heard the deer, she was supportive, she was waiting for me, she was walking slowly through the meadow with me.  I couldn't take my eyes off of my Wolf, it wanted me and only me, my strength began to build knowing that the Wolf would protect me, I was safe in his den.  I felt every emotion flow through me, as though I were on a polaroid rollercoaster of my life.  The pictures stopped on a very clear vision of this beautiful woman, she was dressed in regalia sitting in an open field of grass, singing and drumming because she was free.  She was me.  Then as I became stronger the Wolf wanted to play with me, he wanted to dance, he was so happy! He jumped, he rolled, he pranced, he played and played. The other Wolf joined him and they played with one another, in sync, in harmony.  The deer had seen that the Wolf had found his way again, so she wandered off into the distance and quietly walked away.  The Wolf's playmate realized he needed to focus again so he knew exactly when to leave the Wolf's side.  And the buffalo, even though the buffalo was so strong and was enjoying his roam of the plains once more, he knew that it was time for him to walk gently to the calm rivers below and allow the Wolf to find his way home.  And that is what they did, they allowed the Wolf to dance alone, to be free, to howl his war cry.  The battle of the spirit was over.  The victory was mine.  Silence had never been more thunderous.  I laid the Wolf down and kept him close, he was my shield, he was my saving grace.  He laid there with a sly grin, he knew what he had just accomplished and he was proud.  He was proud of me.
I then went on to further receive gifts from Harry Kathy and Shane, gifts of light and love.  Kathy explained that she didn't know why, but she kept seeing this beautiful white winding tree, a tree from the ancestors, a Tree of Life.  It was the most magical string of events that I have ever experienced, it was life changing, it was amazing.  I am blessed.  Entirely blessed.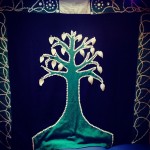 Thank you Wolf Drum, I am free to be once more.